published   January 22, 2015
UPDATED July 5, 2015

BACKGROUND and INTRODUCTION
On October 18, 2014, The WILD VOICE initiated a petition asking 'Pope Francis' to clarify his positions, statements, and behavior on matters important to Catholics and to answer the call of Cardinal Raymond Burke to defend the Catholic Faith "in light of the release of the controversial document Relatio post Disceptationem, summarizing the talks after the Synod on the Family".  You can read (and sign if you choose to) the full contents of the petition here.
After signing this petition to 'Pope Francis' some people left their reasons for signing and comments about their own concerns about 'Pope Francis' and the Church.  Below you will find a sampling of just some of these comments which come from all around the globe – Zimbabwe, the Philippines, the United States, Australia, Sweden, the Russian Federation, Ireland, and more.
We certainly in no way pretend that these comments represent the voice or view of the majority – quite the opposite actually.  If you want to read comments praising 'Pope Francis' you need only look to any mainstream (including mainstream 'Catholic') news source.  The comments below, very admittedly, represent only a very small and little heard from minority.  In fact, many Catholics (and the rest of the world) wish they would just be quiet, get in line, and not make waves.
We are glad and grateful that they speak.

Here, we might all remember the words of Saint Athanasius:

"Even if Catholics faithful to tradition are reduced to a handful, they are the ones who are the True Church of Jesus Christ."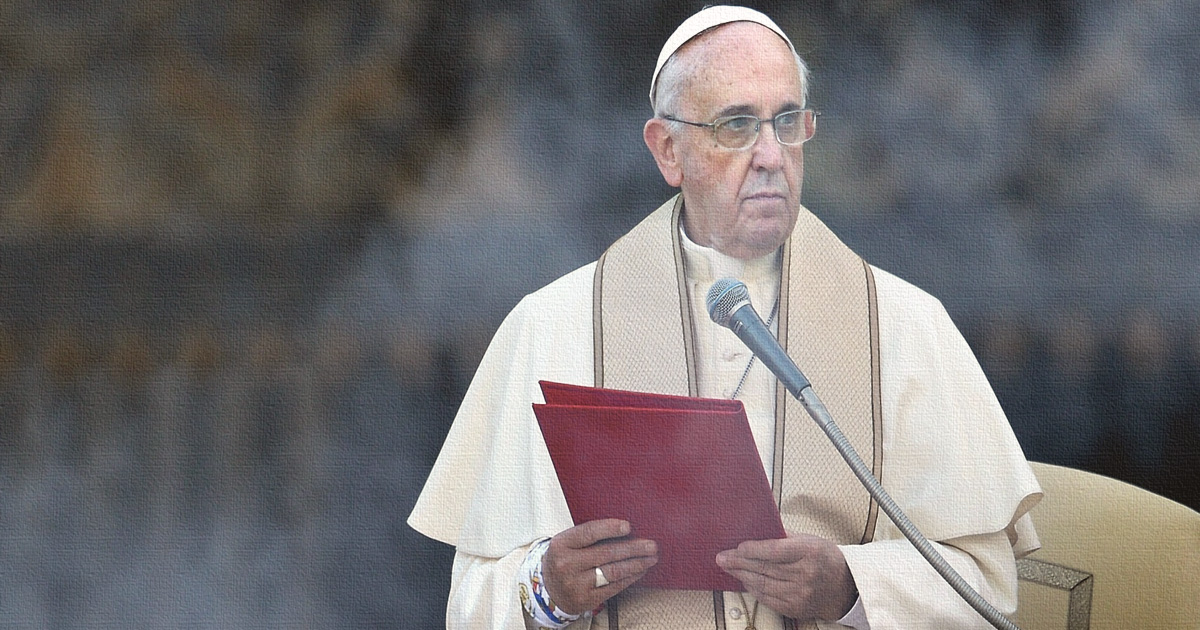 THE WHISPERING MINORITY CATHOLICS
(Note:  The last names have been removed.  The comments themselves have not been edited in any way aside from a couple of spelling and spacing corrections to allow for easier reading.)
Frank NANAIMO BC CANADA, CANADA
I want the sowing of confusion stopped and the truth proclaimed.
Maria ILIGAN CITY, PHILIPPINES
I am signing because I believe and love my Catholic faith and I want to defend it.
Vicky MISSOULA, MT
If the final document produced by the synod on the family reflects the tone of the relatio, those suffering under grave sin will be officially and heretically encouraged not only to become more comfortable in that sin and live lives contrary to the doctrine of 2000 years, but will in addition. be encouraged to receive sacrilegious communion as a life habit. Such institutionalized sacrilege will further degrade the condition of the souls as well as scandalize the souls of others. This desecrates the body of Christ with the approval of those guardians of the blessed Eucharist and abandons those souls whose life journey is meant to bring them back to love of Jesus whole abandoning love of self. To do so is a grave even deadly error on the part of the bishops for which they will bear the fruit in this world and the next. I beseech Pope Francis to bring the fruit of this synod into compliance with the belief of Catholics and to the benefit of the so precious souls of those living in sin. Offer them the truth which is Christ.
Brenda LONDON, UNITED KINGDOM
We have no leader – we need a Leader, a true Shepherd, so far we have no proper true leadership with this Pope. God help us – thousands will flock to Orders like SSPX if this Pope continues his purging of Tradition and Orthodox Prelates.
Victoria UNITED STATES
Pope Francis is destroying the Catholic Chruch
Jen OOLTEWAH, TN
I have only been catholic for 5 years and I have embraced it until now. Pope Francis is so liberal with family values and has become so untwined with political affairs that I can no longer support him. Our family is seriously considering leaving the church and taking our children out of Catholic education. I Will not lead my children astray; just as you are leading your people astray. God help us all.
Joseph LAS CRUCES, NM
Im signing this petition because i see that our Holy Church is being led in a downward spiral. Im signing this petition because i want answers.
Jun QUEZON CITY, PHILIPPINES
I have strong feeling pope francis is an anti pope n anti Christ.
Rosie KIDAPAWAN
I am signing this because I am true to my faith. I was born a catholic and I will die a catholic.
Carolyn HOLLY, MI
Confusion is of the devil and this Pope needs to stop the confusion and speak to the TRUTH.
Magna MANILA, PHILIPPINES
I too am concerned that many of Pope Francis' statements and actions seem to refute church teaching.or tend to approve those that the church has always taught as sinful. Does he intends to change or compromise Catholic teaching to suit the convenience of straying and non-Catholics so as to attract them to the fold? Or will he uphold Christ's teachings? Clearly no one has the right to change the truths that Christ our Lord has taught us.
Reymark BUKIDNON, PHILIPPINES
This is truly an antichrist move veiled under the deception of who-am-i-to-judge facade. Everyone should partake in spreading the truth. It's important to know that, it's bound to happen. It has been prophesied-it's in the Bible.
Roberto SPRING VALLEY, CA
I'm very confuse with Pope Francis statements. Is he really catholic?
Evelyn NEW YORK, NY
I don't agree with the direction P.Francis is taking the Church and I believe he should do more to defend the traditional teachings of the Church.
Richard TAUNTON, MA
I am very concerned that the Pope is trivializing sin and thereby leading souls away from God to the road of perdition.
Stella KADUNA, KD
I am signing because the family and marriage is under attack because the Pope wants to be for the world rather than defend the gospel of Christ. Stop using St Peter's chair to promote evil.
A family SELLINGEN, NETHERLANDS
We're signing because this we think this pope want to change The Church in a wrong way
RODOLFO CAVITE, PHILIPPINES
NO to new world order of one religion thereby eliminating our LORD JESUS CHRIST, the Holy Cross and the Holy Communion. Pls PRAY for the Catholic Church and its people.
Mrs. M.  BIRMINGHAM,, UNITED KINGDOM
I am heartbroken and confused. Everything you are reported to be saying, dear Pope Francis, seems ambiguous or downright dishonest. The Church is a loving mother to sinners but She never condones the sin. Some of your statements seem to be saying differently. I am very, very dismayed to read about Cardinal Burke's demotion, and to hear about communities being apparently punished if they choose to use the Latin Rite. What is going on? I also heard that Latin is going to be abolished as the official language of the Church but I do not yet believe that; it would be incomprehensible! Latin holds the different nationalities together. It must remain the language of the Church. We are all the poorer since the demolition of the Traditional Rite since now the average layman or lay woman no longer hears Gregorian Chant at Mass. When I was young, even poor congregations were more literary and literate than they are today, because having to follow some Latin in the Missal was educational.
Robin NEW ALBANY, UNITED STATES
If you cannot defend the Catholic Faith then step down and resign. The Church needs a real Pope not an Anti-Pope!
Tammy FORRESTON, IL
The truth needs to come out.
Romeo IMUS CITY, PHILIPPINES
Because he seems to make pronouncement that undermines the teaching of the Lord. This create confusion among Catholics
Helen LINCOLN, IL
As our church leader you have caused much confusion and hopefulness of things that just do not fit the doctrine of the Catholic Church. You push the cardinals that defend the doctrine away and continue to build false hope for sinfulness to be accepted into our church laws.
Patricia HOUSTON, TX
I love the FAITH given to us by Christ, the Son of God, and do not want it watered down and confused.
Suzanne HINSDALE, IL
Because so many people think they now can freely be open about their transgressions related to abortion, same sex marriage and contraception. You influence so many people every time you speak. Please clarify where you really stand.
Carol SPRINGFIELD, MO
I love my church. We need more clarity not more confusion. We need more sacredness not defiance.
Mary WILLIAMSPORT, PA
Because the church is changing too much and is taking away the teachings that Jesus entrusted to it. Some change maybe but now they are going too far.
Sandra WINDSOR, CANADA
I was born and raised Roman Catholic and I was taught to obey the Ten Commandments given to Moses by God. That was over two thousand years ago and NOTHING in the commandments has changed! I firmly believe in G0s's words and I am upset that yoy gave permission for a divorced woman to receive the Eucharist! You are changing God's laws and you MUST STOP! How can we follow a Pope who is trying to change God's laws!!
Kelly HOLYOKE, MA
This pope does not represent the catholic church and is disrespectful to our lord Jesus
Rosa TORONTO, CANADA
I don't mind the "who am I to judge" as a personal opinion & which I agree. Who am I to judge, but PLEASE explain what the CHURCH of CHRIST teaches. Don't let the media run amok with your words & invent whatever they want making a mockery of my faith.
Fionbar TULLOW, IRELAND
I'm signing because at best Pope Francis has made quite a few ambiguous comments and I find it very unsettling as he has not clarified them, to the best of my knowledge.
Paul AUSTRALIA
We need the pope to clearly, and unambiguously state and DEFEND Catholic teaching. Under this pope, this is NOT happening.
Jose MIAMI, FL
It is high time Pope Francis starts sounding Catholic!
Cecille MANILA, PHILIPPINES
We want you to take a stand in upholding and preserving the Catholic faith, remain true to the teaching of our Lord, Jesus Christ and not to sow confusion among catholics. We want no change in the teaching of Jesus 2000 years ago….
Kalara CONCORD, CA
I'm confused and I need clarification.
Joice LENEXA, KS
I want stay for the truth which Jesus taught us and what is written in the Holy Bible.
Patrice WINONA, UNITED STATES
I am signing this petition because I believe in following the teachings of the Catholic faith without wavering to the changing times. The Catholic Church remains because of this strength which is impossible to crush. I am un crushable too. I stand firm with the teachings in the Cathechism.
Hae MANILA, PHILIPPINES
I am signing because I am confused with the actions of Pope Francis especially with regards to his relationship with the late Bishop Tony Palmer who had a satanic interpretation of the Holy Eucharist and proclamations that seem to condone the LGBT's sexual activity which is clearly written in the Bible as an abomination to God. Heavenly Father, please have mercy on Your children.
Daniel HARARE, ZIMBABWE
Its appalling what the Pope is doing to our faith. Absolutely horrific.
Anne CROFTON, MD
Pope is misleading the faithful.
Raquel LAREDO, TX
Because the changes the Pope is calling for contradict our Lord Jesus Christ's word.
Linda MOCKSVILLE, NC
I am confused and worried. I want to know the Church is unified from the Pope to all laity. I want to know the Pope is going to defend the biblical teachings on marriage, life, and homosexuality.
Joyce LOUISVILLE, KY
My Catholic Faith is the CORE of my being and reason that Jesus gave me this life and my children. We need a STRONG POPE who can stand up and see the deceit of the evils of the world, lead his sheep and GIVE ALL GLORY TO GOD NOW AND FOREVER! rather to those who are trying to control the Church of Jesus!
Luke TAGUIG, PHILIPPINES
I don't want the Holy Father to sacrifice our Catholic Doctrines and Teachings to satisfy evil desires and deceptions.
Melissa PARK RIDGE, IL
His words are the opposite of the words of Jesus Christ of whom he is supposed to serve and lead the people. If Christ is love Pope Francis is hate.
Margaret EVANSTON, IL
We have to save the church from this imposter
Veronica RICHMOND, VA
I love the Holy Catholic Church established by Jesus Christ to save all people. I want the teachings of the church defended!
Agnes HONG KONG
Pope Francis must follow the High priest- Jesus Christ's teaching, right is right, wrong is wrong, If pope Francis please the people, we please our God only. So we must defend the Catholic faith.
Ma. Bella CAINTA, PHILIPPINES
Because I am worried about what this Pope is doing which seems to be against the Church
David MERIDEN, CT
I love Holy Mother Church. I am part of the Church Militant. We are in a spiritual battle for souls; for heaven verses hell and St. Faustina in her dairy wrote that she suffered the Garden of Gesthemane on the exact date that Pope Francis was born . God, the Father's warning to the faithful through St. Faustina? Certainly, it is plausible if not probable.
Ana BOCA RATON, FL
You would violate tradition to allow such things to take place. are you a false…………?
Robert WHANGANUI, NEW ZEALAND
True charity is dependent on the integrity of the Fatih.
ELENA LANCASTER, PA
Truly too much ambiguity and dissent from Church teachings from this Pope. The Synod invited further demise againt Christ Jesus' Church.
Andrea COLOMBO, SRI LANKA
I believe in what Jesus taught us. The Pope should not change the Catholuic traditions according to his whims and fancies
Corinna NOTTINGHAM, UNITED KINGDOM
Because I want to know if the Pope has orthodox views or if he is a heretic
Nicolaus SWEDEN
Because I love the true catholic faith and have witnessed how the relativism of today makes people go further away from God and not seeking the ONE truth!
Manon NETHERLANDS
Your Holiness is proposing principals that are diametrically opposed to the Deposit of Faith.
Joyce LOUISVILLE, KY
I believe in my Catholic Church and the doctrine that it teaches because the Church follows the teachings of Jesus as in taught us in the Bible and the Ten Commandments. If we give in to POPULAR thinking of today we are going against God's Will!
Nathaniel AUSTRALIA
BERGOGLIO is the false prophet.
Pearl CAVITE CITY, PHILIPPINES
I want to be sure that the pope is Catholic.
Ivan MOSCOW, RUSSIAN FEDERATION
Speak what you have in mind. We need the truth.
Harper LOS ANGELES, CA
Pope Francis speaks confusion to the flock and we would appreciate he be clear on his intentions. Cardinal Burke should be respected, not ousted or punished.
JoAnne ANAHEIM, CA
Because Pope Francis is doing everything can to change the Church from within with his liberal stance. Obviously, he's afraid of Cardinal Burke, since he's trying to get rid of him.
Virginia STIRLING, UNITED STATES
We need to know where the Pope stands!!
Lillian LOMBARD, IL
Many souls are being lost because of the misinterpretations.
Lyle CHICAGO, IL
Pope Francis needs to step up to the plate! Quit taking all the selfies and get real with us!
Donna WAIHEKE ISLAND, NEW ZEALAND
You cannot change what God has ordained and You must uphold the Catholic Faith rather than your New Age Agenda.
PLEASE SUBSCRIBE FOR UPDATES